Why is SutureOut the Best for Innovative Suture Removal?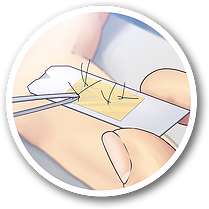 Easier:
SutureOut's "outside-in" cutting approach is quick, easy and super versatile - making removal embedded and tightly tied suture loops way easier. Just press the cutting edge under the tied knot to sever the loop and remove the stitch.
Scissors require getting a tip inside the tied loop. This can be challenging especially for tight sutures. Lifting the tail to get the tip into the loop can cause discomfort to the patient and can even disrupt the wound.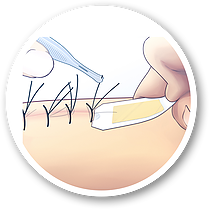 Safer:
SutureOut uses a guarded-blade design that makes accidental injury to the patient's skin highly unlikely compared to the unguarded tips of scissors or #11 scalpel blades. Practitioner's are reassured knowing the process is not hurting the patient.
Using scissors can be challenging especially in the cases of tightly tied stitched and uncooperative or anxious patients. The unguarded tip of scissors or a scalpel blade is prone to damaging the patient's skin or even the healed wound.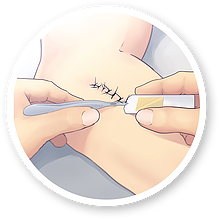 Cleaner:
Removed knots are effectively collected on SutureOut's tacky surface. No cleanup of scattered sutures saves time and makes up for a more hygienic work space. Avoid ricks associated with reusing scissors.
Preparing gauze or basin to collect removed sutures becomes unnecessary with SutureOut. It removes stitched and allows you to collect them with one product! Once done, dispose of SutureOut - with all the removed sutured attached - in any sharps container.